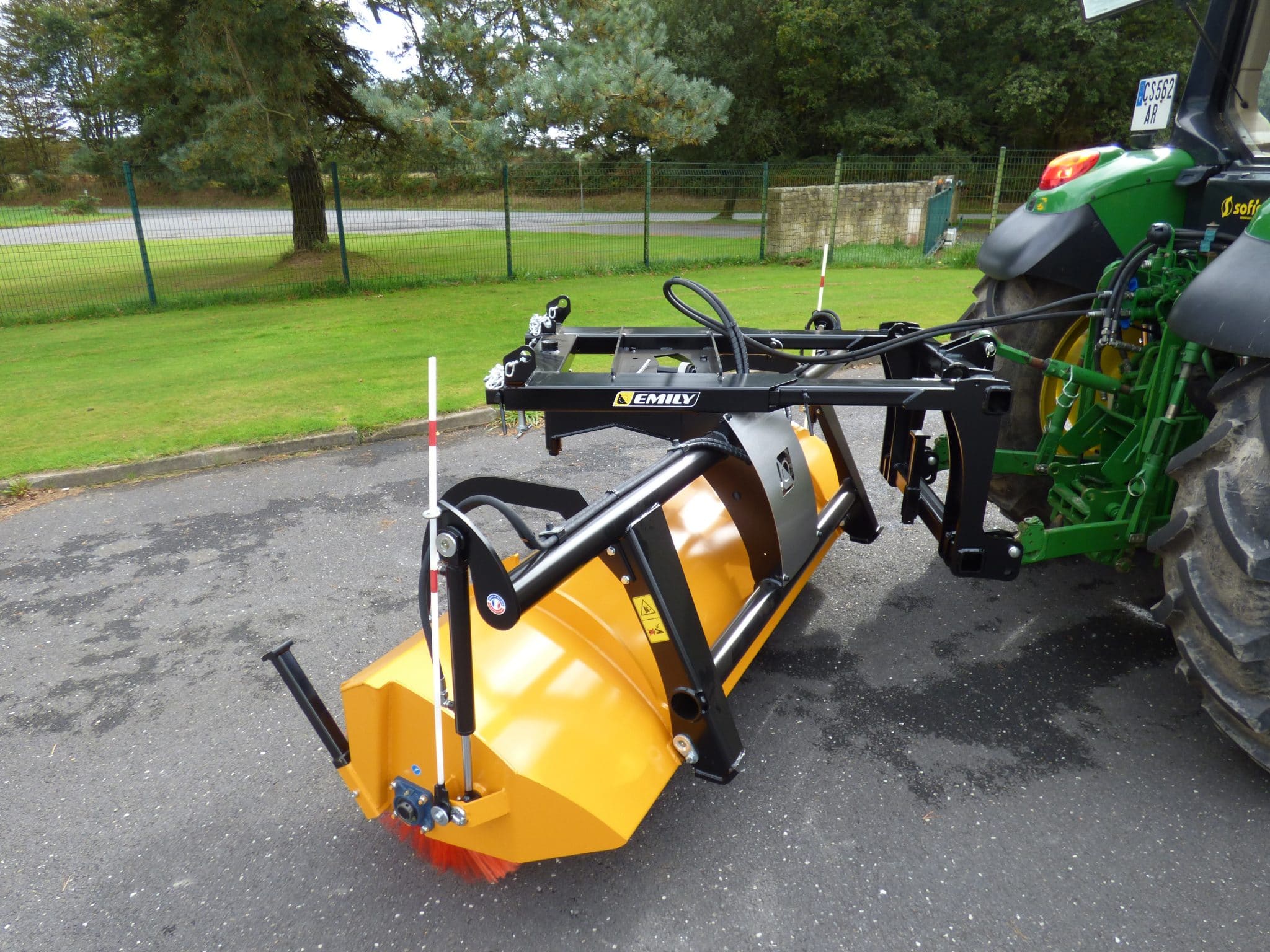 Swathing sweeper
Aero'sweep swathing sweeper
The Aero'sweep is an angled brush sweeper with a distinctive feature: the sweeper has no wheels. On pallet forks or front rear linkage of tractor.
How it works
A hydraulic control ensures a perfect adjustment on uneven ground.
– By setting the joystick in one direction the brush moves down
meantime the brush rotates. The brush stabilises itself in contact with the ground to get a constant sweeping pressure thus ensuring a perfect sweeping on uneven ground. The brush is self adjusted when it wears out and thus requires no action from the operator.
– On the other direction, the brush lifts up enabling a safe handling.
Standard equipment
On pallet forks (Cross-section of the pallet fork: Max. 150 x 60mm)
 ABS System (Automatic brush adjustment)
Brush level adjustment thanks to 2 lifting rams
Level marks
Left or right manual orientation (+/- 26°)
Polypropylene brush Ø 600 mm
Supporting legs for storage
Read more
Emily Advantages
No wheels: exclusive and economical.
Sturdy machine: oversized pivots and axes.
ABS system (Patented): perfect adaptation on uneven ground. The ABS Sytem can balance an important high amplitude.
Level mark: the driver controls the brush position from the cab.
Support legs for storage.
Fully integrated hoses: optimal protection for the driver and the machine.
Read more
Available options
Hydraulic orientation
Linkage intermediate frame for 3 pt rear and front
You are interested in the Aero'sweep swathing sweeper ? Please complete the form below so that we can contact you.